What's included in a boiler service
» Save gas and money by improving your gas boiler performance.
» Boiler warranty covers the cost with one annual boiler service call.
» Improve your home's comfort.
» Better air quality because of better heating.
If you require a boiler service, then this blog post is for you. We will discuss what's included in our boiler service and how much it costs. An annual boiler service includes an inspection to see if the heating system has any leak or other problems that could lead to problems down the road. Our gas safe registered engineer also checks the boiler safe operation, gas pressure and wiring that may be exposed. Also included is the cost of replacing filters, cleaning out the heat exchanger, inspecting the gas connections and carrying out the boiler flue gas analysing test.
What is an annual boiler service?
The annual boiler service is a yearly visit by the gas engineer to identify any problems with your system. The gas boiler service can also help to check the boiler and central heating system performance. As well as homeowners being able to see what they need to do themselves in terms of maintenance and efficiency.
Our gas engineer performs a safety inspection and maintenance service to ensure your system always operates in the most efficient manner possible.
If you want to read more about boiler servicing, check out our boiler service guide.
Why a Boiler Service is Important
The boiler service is not mandatory but it is very essential to keep your boiler in the best condition. The annual boiler service is also an excellent way to know what boiler repairs are needed and when they should be done.
A few reasons why you should have an annual boiler service include:
Checking for leaks
If the gas engineer finds the small leaks in the early stage they will be easy to repair. Usually, the fault can be as small as a washer or seal replacement. But if you leave this leak to drip a few more weeks, this can cause major damage.
Our heating engineer also checks the flue integrity and any gas pipe and valves for leaks so we can take care of our customers.
Safety
During the boiler service, our reliable gas engineer can identify safety issues that can cause major damage to your property or can be life-threatening.
Always make sure you are installing a carbon monoxide alarm close to the boiler!
Sometimes you can check yourself if it is time for the need for an annual boiler service. If the gas boiler flame is orange rather than blue it is time to call a gas engineer, who will inspect your boiler performance.
The boiler service will keep your energy bills low
After a few years, the boiler starts to be less efficient. This is happening because of the build-up of sludge in the heat exchanger or the central heating. If the heat exchanger will be blocked, the water can not circulate properly inside the pipes what can cause lockout and breakdowns. Even if you don't have any issues yet, your boiler will burn more gas to heat the water properly.
Prevent costly breakdowns
To prevent expensive repairs and breakdowns, you must have your boiler service performed by an expert gas engineer. In general, it is recommended that you have your boiler serviced annually.
If you service your boiler every year, you can avoid breakdowns which sometimes can cost you a fortune. Materials are very expensive.
Keep the manufacturer's warranty
After fitting the boiler this will come with a 5-12 year parts and labour warranty. As long as it was installed to the manufacturer requirements. Also, it is the manufacturer who requires that the boiler is power flushed after the install, a magnetic filter will be installed and the annual boiler service will be carried out. If you follow all of these steps, you can have up to 10-year free repair from the manufacture.
Most boilers will come with a guaranteed 5-10 year warranty cover from manufacturer's defects so that you can enjoy low running costs without worrying about premature breakdowns.
What happens during a boiler service?
The gas engineer will carry out the mandatory boiler service checks.
These check includes the boiler's performance to ensure that it is running efficiently and meets safety standards, analysing the gas supply by regulations, flushing out any debris or dust from the condensate pipes which may hinder the efficient operation of the system.
Usually, a typical boiler service checklist includes:
1. Visual inspection of the boiler
The engineer will take off the boiler casing, looking for any signs of damage or corrosion.
Watching the operation and pressure to detect any leak.
The engineer will also inspect the boiler's connections, valves, gauges, heat exchangers and wiring.
If a problem is found with one of these components then the gas engineer would be discussed with the customers how the issue can be repaired.
2. System controls and operation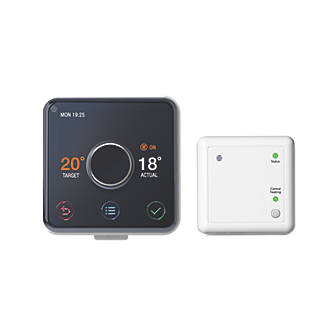 Your system has many controls. A combi boiler will normally have a room thermostat that is controlling the temperature in the rooms, and a programmer which tells the boiler when to heat up.
Our boiler engineers check if you have any problems with these controls if they are set correctly.
The radiator thermostats are system controls too. These are opening and closing depends on the room temperature requirements. If the radiator thermostats are not working properly they will not heat the room properly
If you have a system or conventional boiler, apart from the room thermostat and programmer, the engineers also have to check the hot water cylinder thermostat, safety functions in the cylinder (like pressure relief valve).
3.Radiator conditions
The engineer will also check that all parts of the system are working as they should be such as circulating pumps and radiators. We use a thermal imaging camera to identify any debris in the heating system.
The pictures of the system will be recorded and a report with photos will also be provided in the request. This is to allow you to understand what's happening in your home during our visit.
If we found that the radiators have major debris build up these need to be cleaned out if you want. With thermal image technology, we can identify the blockage with 100% accuracy.
4. Flue safety check
Our engineers will check if the flue is installed properly if any obstruction or blockages can avoid the gases to escape from the boiler. He/she will carry out a flue gas analysis
It is also important, that the flue gases can not enter back to the house, so the flue has to be at least 300mm away from any window or ventilation.
These are very important safety checks where can not be any mistakes.
We also check the flue integrity, this means the air intake doesn't have any hole inside and the air won't mix with the gases.
Also, the flue needs to have a slope back to the boiler so the condensate pipe can leak back and it won't damage the flue pipe.
5. Boiler components cleaning
In the second year of the boiler install, it is mandatory to do a full boiler service. We call this a full boiler service. This means the heat exchanger will be cleaned, the seal will be changed on the burner and the ignition pins will be cleaned.
We will carry out a series of checks on your boiler to make sure it continues to function.
We will check many different components like:
Cleaning and inspecting the pilot burner
FSD (flame sensing device correct operation, this has to fail safe if there will be no more flame in the boiler)
Boiler full operation in heating and hot water mode
We check the temperature sensors
The minimum ventilation
Boiler locations from burning materials
Flue terminals and integrity check
Cleaning the condensate trap
Precharging the expansion vessel
Checking the boiler pressure
Wiring and connections
Safety devices and seals
Gas pressures

Get a FREE Gas Boiler Service Quote
Are you looking for a boiler service?
At MML Plumbing Ltd we offer a wide range of services, including boiler installs. Boilers are an essential part of any home and we can help you choose the right one.
With our expertise, there's no need to worry! We can handle your project from start to finish! We're happy to answer any questions or concerns that may arise during this process, so don't hesitate to contact us at any time!
Contact MML Plumbing Ltd today by calling 020 8355 0840 or emailing Info@mmlplumbing.com for more information about the boiler services.
FAQ
1.How Long Does a Boiler Service Take?
It depends on the size and age of your system. On average a boiler service will take one and a half hours. The gas engineer will give you a service report at the end.
2.When should book a boiler service?
The service is usually carried out annually. However, if you have any doubt about your boiler safety, it might be beneficial to book your annual service earlier by our professional gas engineer.
3.What Does a Boiler Service Cost?
It depends where are you live in the UK. A boiler service can cost you between £60-£120. At MML Plumbing Ltd we charge a fixed price of £89 for service.
4.Why do you need to have your boiler serviced annually?
You need an annual service to maintain your boiler high efficiency, and save up to £300 on your energy bills by burning fewer gases. You will also maintain your boiler warranties.
5.Who can service your gas boiler?
Only a gas safe registered engineer can service your boiler.
6.Do I need a boiler service?
A boiler service not only save you a lot of money on your bills and maintaining the warranty, but the gas engineer can point out major damages avoiding costly boiler breakdowns in the future.
7.What happens if you don't service your boiler?
If you don't take care of your boiler and don't service it for one year, you will lose the warranty. Boiler parts are very expensive and it definitely wort an annual service to avoid expensive repairs.
8.Do I need to turn the boiler off before service?
Yes. If you can please turn off your boiler before the service. The engineer needs to take apart the boiler and if it's hot, he/ she needs to wait till cols down.
9.How long does a boiler last?
A well-maintained boiler could last as up to 15-20 years. Also, you have to check if the manufacturers are still manufacturing parts for your old boiler.
10.How often should you service your boiler?
You should have your boiler serviced each year.

Do you need an annual boiler service?